Do I really need to sterilise my bottles?
We recommend that you do, but it's entirely your choice. The main reason for using a microwave or electric steriliser is that they're guaranteed to reach the 100°C needed to kill off harmful bacteria that can build up in milk, and you don't get that guarantee with a dishwasher.
My steriliser isn't working – what can I do?
We're really sorry to hear that! Please follow the steps below to get your unit working again…
Check the mains lead is plugged into the unit and the mains socket is switched on.
Check the fuse is in the plug (in a UK plug only)
Check the socket by plugging in another appliance
Check the sterilising by plugging it into another socket
If none of the steps above get your unit working, please feel free to contact us for help and advice.
Should I get a lot of steam whilst the unit is on?
Not really. If you have way more steam than you'd expect, it could be that you've just got a few too many items inside. Check that items are correctly loaded into the steriliser. There are marked areas on the trays to show where to put your bottles, and if you're popping other items like teethers or soothers in, just be sure to space these out evenly.
Don't overfill the machine with too many products as this reduces how efficiently the steriliser works and it may not sterilise properly.
The correct amount of water is 80ml. More than 80ml of water in the steriliser base will increase the cycle time. Less than 80ml may not sterilise the items properly.
Why are my bottles are coming out of the steriliser with chalky marks?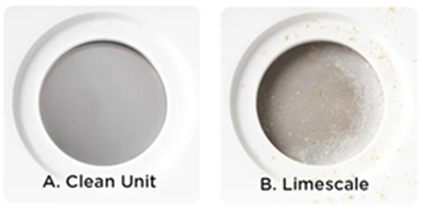 If you are seeing chalky residue on items in your steriliser, that's a sign that it needs descaling. Please refer to the descaling instructions.
To help you identify limescale; here's a picture of your heat plate fresh out the box, (A) and here's a picture of a heat plate that hasn't been descaled (B). If you notice a dark brown appearance, this is likely to be burnt on limescale which means you may need to descale the machine over a longer period e.g. overnight, or up to 24 hours.
There are flaky bits in the machine - what's causing it?
This will be due to a build-up of limescale that's loosened from the heat plate at the base of your machine, so we'd recommend giving it a good descale. We recommend using a descaler that's suitable for use with stainless steel i.e. kettle, iron, and coffee machine de-scalers. Use as per the manufacturer's guidelines.
You could watch this quick video on how to descale your electric steam steriliser.
It's vitally important to regularly descale your steriliser to avoid operating issues and damage to the heat plate, which is in the bottom of the machine.
Should there be water left in the bottom once its finished?
Yes, it's common to have droplets of water remaining, the majority of the 80ml water should have evaporated during the sterilisation cycle. Just empty it out once you're finished and dry thoroughly to use again.
Why does my heat plate look rusty?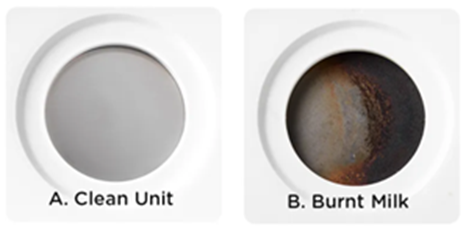 This will be due to limescale. We recommend using a descaler that is suitable for use with stainless steel i.e. kettle, iron, and coffee machine de-scalers. Use as per the manufacturer's guidelines.
If you notice a dark brown appearance as shown in the image below, this is likely to be burnt on milk which means you may need to descale the machine over a longer period of time e.g. overnight or up to 24 hours.
Why do my bottles still have marks on after I sterilise?
The chances are the marks are milk residue. Sterilising removes bacteria, but bottles still need to be washed beforehand to remove any bits of milk clinging on inside. Warm soapy water will do the trick - thoroughly wash, then rinse and pop them in your steriliser.
How should I store my steriliser?
If you want to store your steriliser to use again, we'd suggest that you run a full descaling programme to ensure all limescale is removed and to give it a clean. Ensure the unit is thoroughly dry and securely wrapped in bubble wrap and cardboard to keep it nice and snug. When deciding where to store it, we'd suggest somewhere nice and dry to avoid any damage.
What are the teat tongs for?
The teat tongs are included with the steriliser so that you can safely remove freshly sterilised items without touching them with your fingers and potentially contaminating them. You can remove the teats with the teat tongs and then use the screw ring to re-assemble with the bottle.
Teat tongs should also be used to squeeze any residual water from the baglet of a soother. This is important to do after each wash/ sterilising cycle, to avoid the risk of burning your little one's mouth.
Should I dry the bottles before using them?
Thankfully, you can cross this off your to-do list. Any water left inside the bottles after sterilisation is sterile and won't collect germs, so there's no need to dry. In fact, wiping the inside of a bottle after sterilisation could add even more germs, so it's best not to!
How do I reassemble my bottles when they're ready?
Just reassemble as normal, but wash your hands thoroughly first, or use the teat tongs provided if you have them. The idea is to keep the bottle as clean and sterile as possible.
If you don't want to leave them all in the steriliser for the 24-hours, you can reassemble all bottles straight away and store them in a dry location. The fully assembled bottles will be ok to use for the same 24-hour period. Any unused bottles, after the 24 hours should be popped back in for a fresh sterilising cycle.