As well as your cup and lid, you'll receive a non-spill valve and drinking straw.
Silicone spout
Valve
Hard valve
Hard straw

How to assemble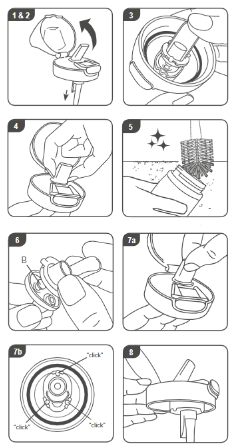 Please follow these important instructions. Always shake parts after washing to remove excess water and leave to air dry before reassembling. Your cup could leak or be difficult to drink from if not assembled correctly as follows:
Align the silicone spout (A) and the hard valve (C), press together. Ensure part B of the soft side is fully pushed through the hole of the hard side (C). This is essential to make sure the valve functions correctly.
Install the silicone spout (A) with the hard valve (C) from under the lid, pull the spout (A) until it clicks and push the hard valve (C) firmly until the three prongs lock into place.
Reassemble the hard straw (D) by pushing firmly into the hard valve (C).
Screw on lid.
How to use
Storage & Use
Inspect before each use.
Do not store or leave in direct sunlight or near a source of heat.
Do not store with or allow to come into contact with solvents or harsh chemicals.
Not suitable for use in a conventional oven, a combination microwave oven or any other heating device.
As with most sippy cups, ours are to be used with milk, water or juices that don't contain pulp.
DO NOT use with fizzy (carbonated) beverages, formula or hot liquids.